Roof Installation Celebrating Our 33rd Year of Service
Bellingham Roof Installation
Professional-Grade Roofing Throughout Skagit County, Whatcom County & Northern Snohomish County
Whether you're building your dream home or remodeling your existing property, your roof installation is one of the most important parts of the process. From selecting the style of roof, to the materials used, there are dozens of options to consider. Perhaps the most important consideration is the company you choose for your new roof. Instead of choosing a random company, choose the best roofers in the area. Since 1990, Skagit Roofing LLC has brought residents across Mt. Vernon and Bellingham expert-level roofing services, including professional roof installation. No job is too big or too small for Skagit Roofing LLC. We are committed to providing the best customer experience possible while delivering on expert-level services.
---
To discuss your roofing project with professional roofers, contact Skagit Roofing LLC at (360) 329-9918. We offer free estimates on all new roofing projects in the Bellingham, Mount Vernon, and surrounding areas.
---
What to Consider When Installing a New Roof
Most homeowners are not roofing experts, which is where we come in! At Skagit Roofing LLC, we are passionate about roofing, and we work hard to stay up to date with the latest in roofing innovations. We are excited to pass our knowledge on to our customers. From helping you design the roof of your dreams to guiding you in selecting the roofing materials and construction that best fits your needs, we have the information you need to begin your roofing project.
Before installing your new roof, we will discuss
The look and style you want for your home
What roofing material will best suit your needs, asphalt or composite
Which method of application is best for your situation, removing your old roof or overlaying new shingles
Which type of underlayment, asphalt or synthetic, is right for your home
If any repair work needs to be done on your home before re-roofing
Do you have any particular concerns, such as moisture protection or extra ventilation needs
In the 30 years we have been in business, our Bellingham roofing experts have learned that every home is unique. We provide personalized roofing services to ensure that your needs are met. At Skagit Roofing LLC, we care about improving our customers' lives, and we focus on making the customer experience as easy as possible.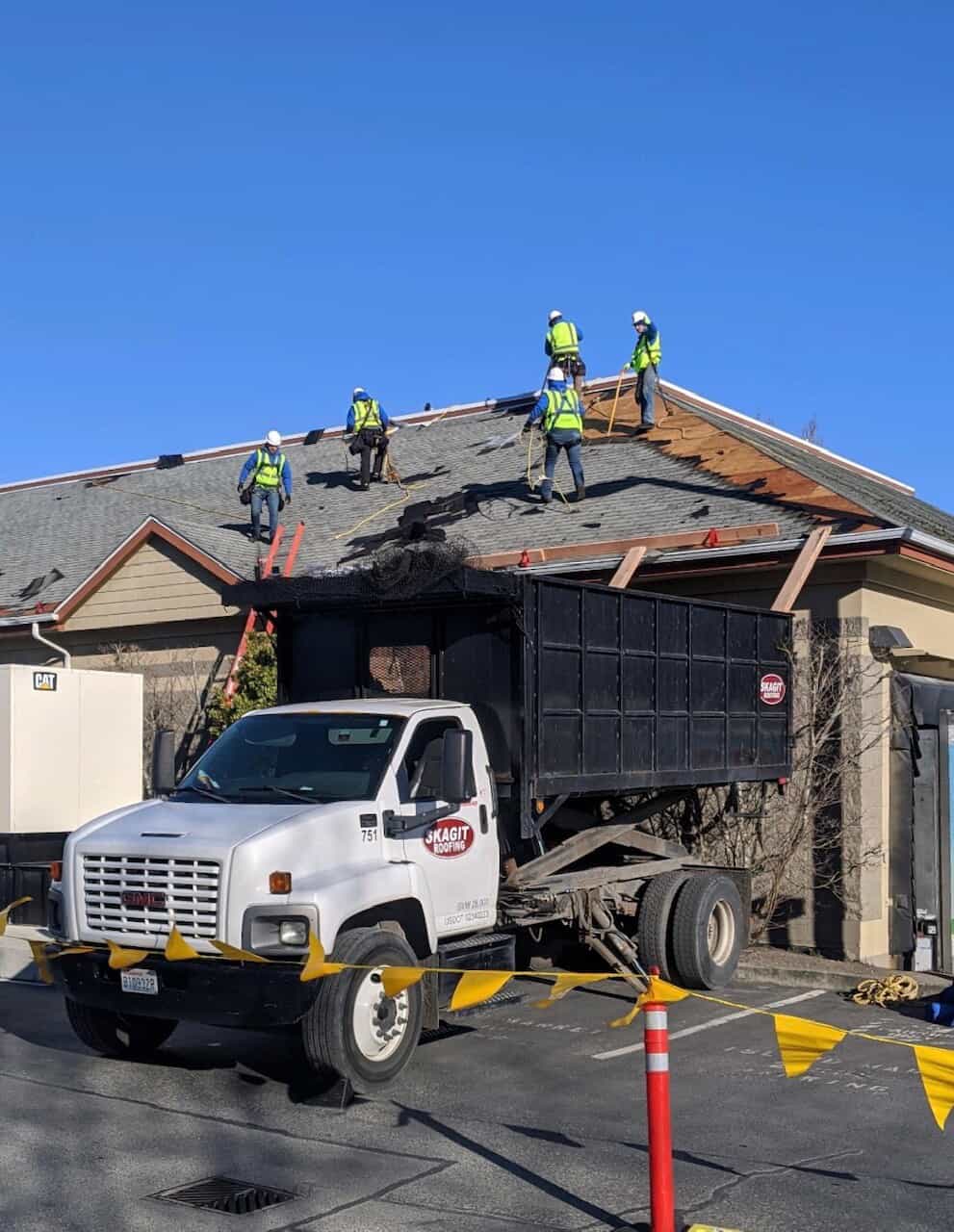 The Roof Installation Process
Before your new roof can go up, your existing roof needs to be inspected, including the wood decking. One of the main things your roofing contractor is looking for is signs of deterioration in the wood. Often, in homes that are dealing with water damage or leaks, sections of the wood decking are soft or rotting. These damaged areas need to be replaced to ensure the integrity of your new roof.
After your roof is inspected, and necessary repairs are made, your contractor will:
Install a metal drip edge to prevent water getting under the shingles
Install roof underlayments to protect from rain and ice
Lay down your new roofing felt
Layout and install your new roofing shingles
Install flashing, vents, and seal around other accessories and related roofing items
Perform a final inspection of your new roof to ensure all
After your new roof is installed, our Bellingham roof installation team will clean up. At Skagit Roofing LLC, we work hard to ensure that your roof installation causes as little disruption to your life as possible. Our roofing contractors are always professional, and we always treat your property with care.
For Professional Roofing Installation, Call Us
Skagit Roofing LLC has been an established part of the Bellingham and Mt. Vernon communities for three decades. We are passionate about roofing, and we have a hands-on owner. We use professional-grade roofing materials on all of our residential roofing projects. Our Bellingham roofers are factory certified installers for Malarkey, Pabco, CertainTeed, and IKO shingles. We are proud of our long-standing relationships with these companies. We stand behind our work, and our goal is to take the stress and worry out of roofing installation.
---
To work with a Bellingham roofing installation expert, contact Skagit Roofing LLC at (360) 329-9918.
---
Happy Customers in Your Neighborhood
Reviews & Testimonials
Hear From Our Happy customer
"Need a roof? Do yourself a favor and call Skagit Roofing!!"

My family and I have used Skagit Roofing several times thru the years and never hesitate to refer them. Their crews are skilled and take pride in their work which is evident from the start.

- Stephen Z.

"Roof was done with a high level of quality!"

I will never use a different roofer again, Ty and the entire crew took care of me start to finish all the way to painting the B-Vent. Highly recommend Skagit Roofing. Thank you again Ty and Skagit Roofing!

- Justin A.

"Real value for our money."

Skagit Roofing responded promptly to our invitation to give a quote, and when Ty came by, he asked all the right questions to scope out the job in good detail. It's easy to see why so many homes in the neighborhood have been re-roofed by Skagit Roofing.

- Mike F.

"I recommend Skagit Roofing every chance I get."

Best in the business. Trustworthy, loyal, helpful, friendly, courteous, kind, cheerful, thrifty, brave, clean, and reverent. Plus, they did a great job at a great price and finished the whole roof (including some structural repairs) in less than a day.

- Karl W.