Community Outreach
Bettering Our Neighborhood for 30+ Years
At Skagit Roofing LLC, we take our jobs seriously. We view our roofing services as a way of bettering the lives of residents in our community. However, this commitment to leaving a positive impact on our neighborhood extends well past roofing installation. We put our money where our mouth is, and our team is a proud supporter of our local food banks and Meals on Wheels programs. Not only do we provide one-time monetary donations, but we also have working relationships with our local senior centers in Skagit County.
We understand that emergencies can strike at any time – sometimes leaving members of our community ill prepared to tackle large-scale roofing repairs or replacements. That is why Skagit Roofing LLC proudly volunteers to help their community when in need. We'll do everything we possibly can to ensure the health and safety of others in our area.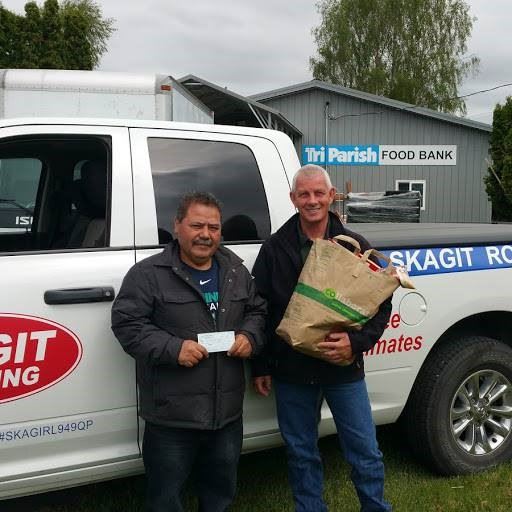 Team Skagit Roofing loves to serve the local community where we live, work and play...Just like you! Here are a few of the organizations were are proud to support, like the Senior Centers of Skagit County, the Tri-Parish Food Bank, the Champions for Community Food Drive, Scholastic Sports and so much more.
A Helping Hand | Tri-Parish Food Bank
Thank You Facebook Fans! Our Spring Like and Share promotion raised 316 pounds of food for the Tri-Parish Food Bank. We learned from Food Bank Director Jose that he and his crew can leverage the most food needed with a check, so our own "Friendly Estimator" Ty presented Tri-Parish with a symbolic bag of food AND a check for $500.00. Jose also helped us draw a winning name from the folks who liked and shared our page and post creating the 316 engagements. Congratulations to Deb Eaton! You win the Spring Fling $100 Gift Card to Fred Meyers! We will also contact you by messenger.
Help For The Homeless
Team Skagit Roofing was excited to arrange a Covid compliant photo with our Mount Vernon Police Department Heroes in Blue! Erin Von Fempe, MVPD's embedded social worker, accepts the $1000 Donation from Skagit Roofing's Jim Hjelt. The money is earmarked for the MVPD's Ourtreach Program for the Homeless. Also in the photo (top row, left to right): Chief of Police Chris Cammock, Lieutenant Greg Booth, Community Service Officers Adam Walker and Megan Murphy.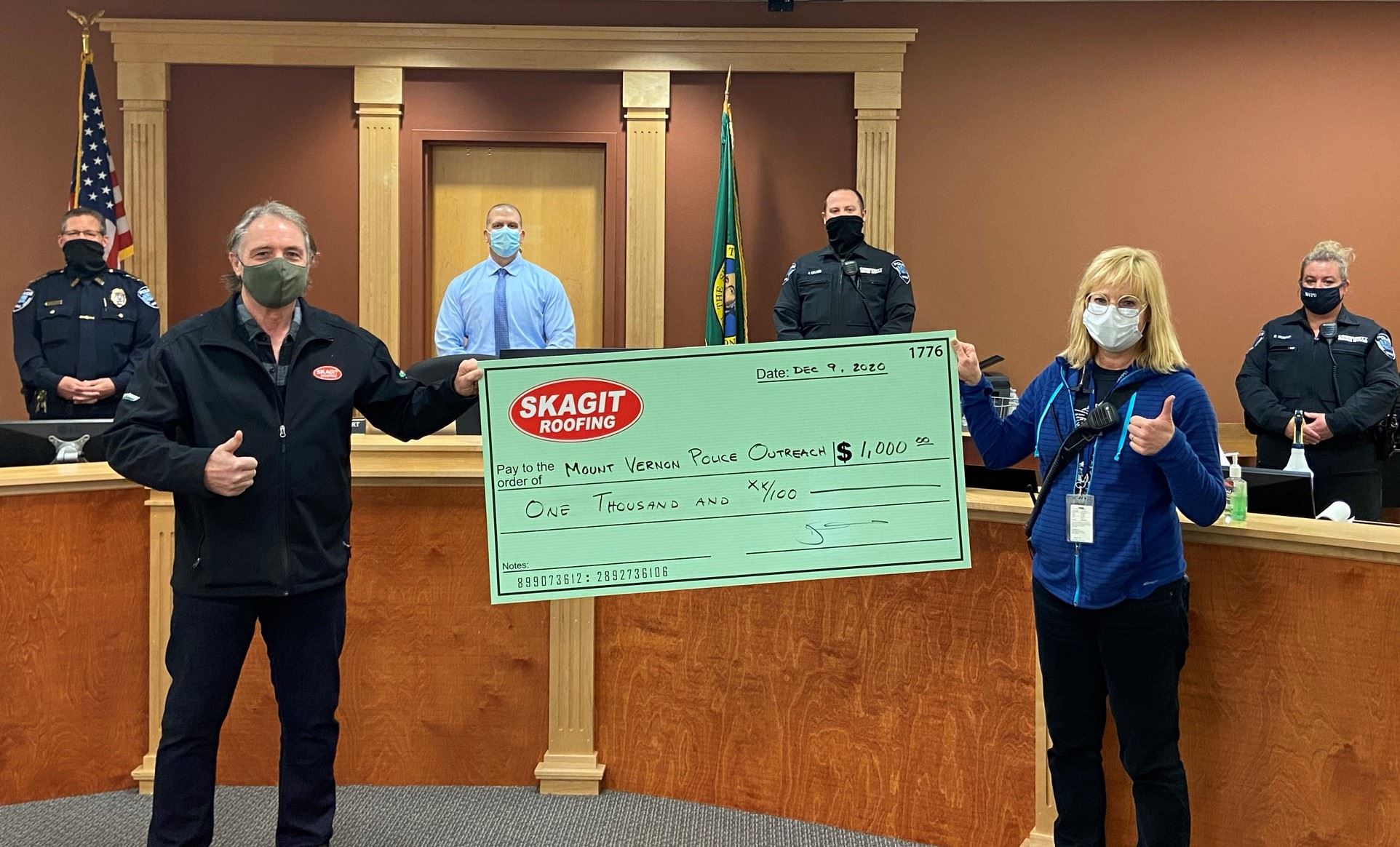 Our goal was to raise funds AND awareness about the good work being done to help the homeless in our community. And, with the help of our Facebook fans, we made it happen. We posted that we'd donate $5.00 for each Like/Share on our Facebook Post about the program. We expected it to take several days to meet our $1000 goal. But, It took less than 24 hours! And folks kept sharing our post, which reached over 46,000 people and counting.
The need is greater than ever in these Covid times. If you'd like to make a direct donation, current Outreach Needs include: Backpacks (new or slightly used), socks, Men's and Women's underwear, Monetary donations, Gift cards & gift certificates. they can be dropped off at MVPD, or sent to 1805 Continental Place, Mount Vernon, WA 98273. More info at the link:
http://mountvernonwa.gov/1044/Outreach-Coordination-Services
Our friendly and compassionate team has been serving the community since 1990, and we are committed to treating every customer like family. If you are in need of roofing replacement, installation, and repair services in Bellingham, Mount Vernon, or surrounding areas, call our caring roofers today.
For more information about our commitment to our community call (360) 329-9918 or contact us online.
These Photos Speak For Themselves
Our Customer's Are Our #1 Priority
- Justin A.

- Deborah C.

- Stephen Z.

- Mike F.

- Vanessa J.